Das neueste Kreuzfahrtschiff der Papenburger Meyer Werft, die "Spectrum of the Seas", wurde am Donnerstagmittag in Bremerhaven feierlich abgeliefert.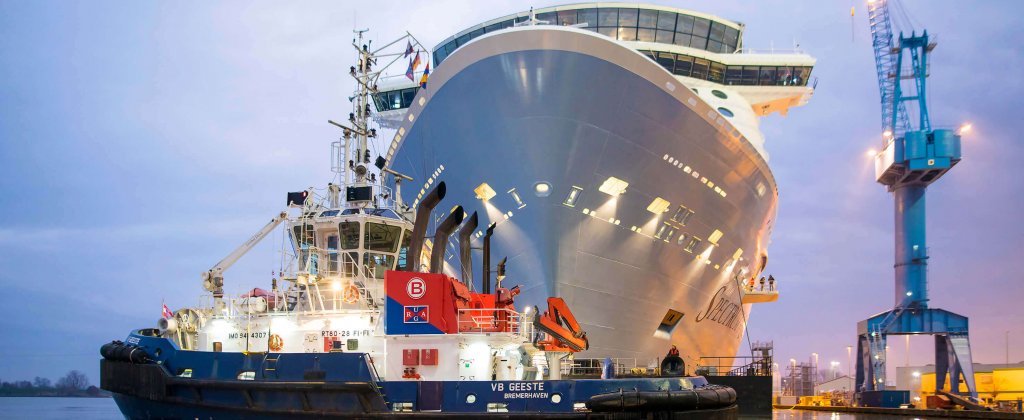 Bei der Übergabe anwesend waren Geschäftsführer Tim Meyer, sein Vater Bernard Meyer und weitere Vertreter der Meyer Werft.
Die "Spectrum of the Seas" ist das erstes Schiff der "Quantum-Ultra-Klasse". Es ist 347,1 Meter lang, 41,4 Meter breit und bietet Platz für 4246 Passagiere. Schwesterschiffe sind die "Quantum of the Seas",  "Anthem of the Seas" und "Ovation of the Seas".
"Als eine Weiterentwicklung der Quantum-Klasse verfügt die Spectrum of the Seas wie ihre drei Schwesterschiffe über modernste Abgasreinigungsanlagen wie sogenannte Hybrid-Scrubber. Sehr energieeffiziente technische Systeme, eine optimierte Hydrodynamik, Wärmerückgewinnung sowie ein äußerst effektiver Unterwasser-Anstrich und ein extrem energiesparendes Beleuchtungssystem mit LED-Leuchtkörper führen zu erheblichen Energieeinsparungen", gab die Meyer Werft bekannt.
Ein Diesel-elektrischer Pod-Antrieb, umfangreiche Alarm- und Sicherheitsanlagen, interaktive Kommunikationssysteme sowie neueste Bühnentechnik sollen Sicherheit und Unterhaltung an Bord nach den höchsten technischen Standards garantieren.
Im Gegensatzu zur Ende 2018 abgelieferten "AIDAnova", die als weltweit erstes Kreuzfahrtschiff vollständig mit umweltfreundlichem Flüssiggas (LNG) betrieben wird, fährt die "Spectrum of the Seas" mit herkömmlichem Marinediesel. Ein sogenannter "Scrubber" sorgt für die Reinigung der Abgase.