Meyer Werft Papenburg Ticket mit Übernachtung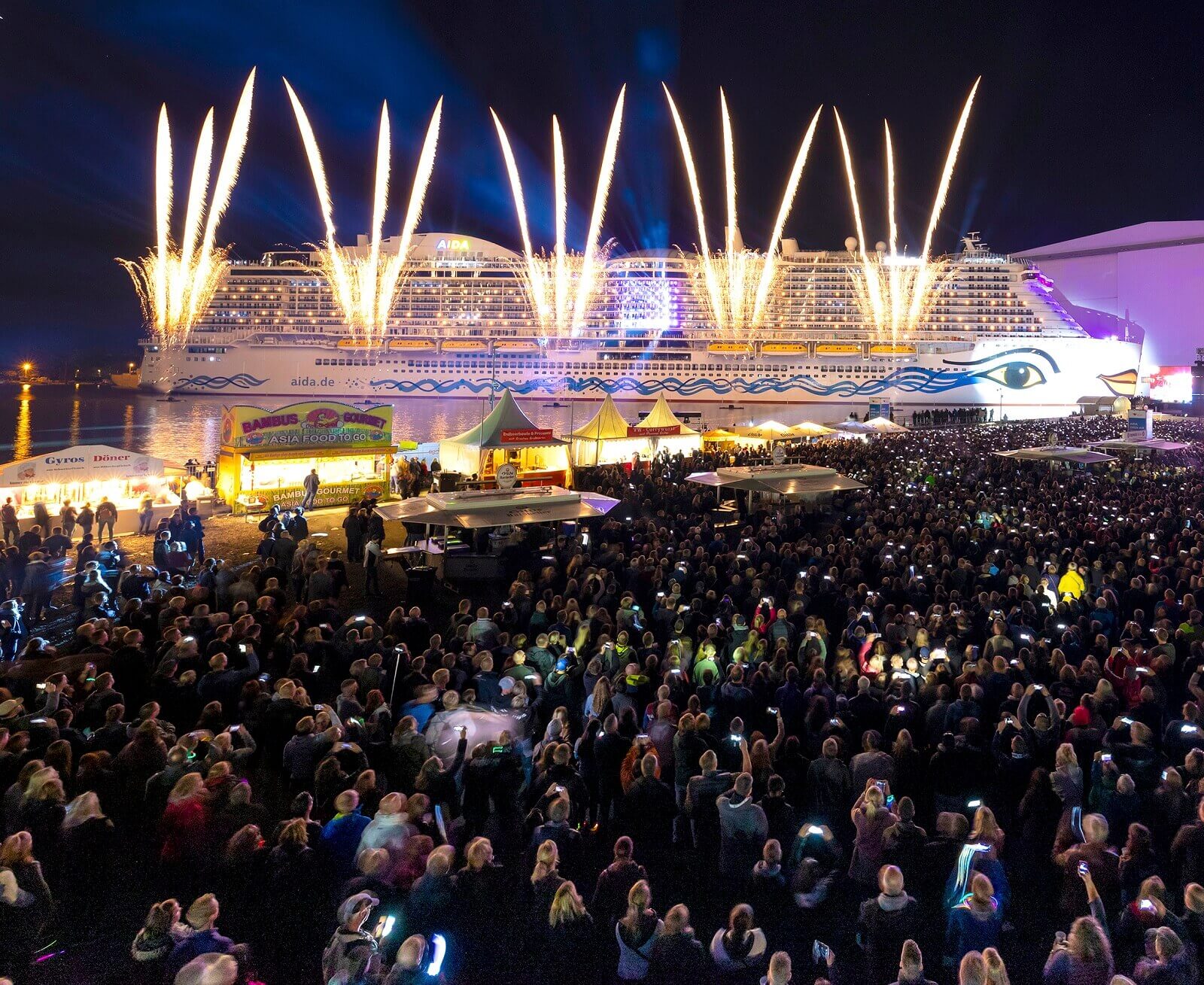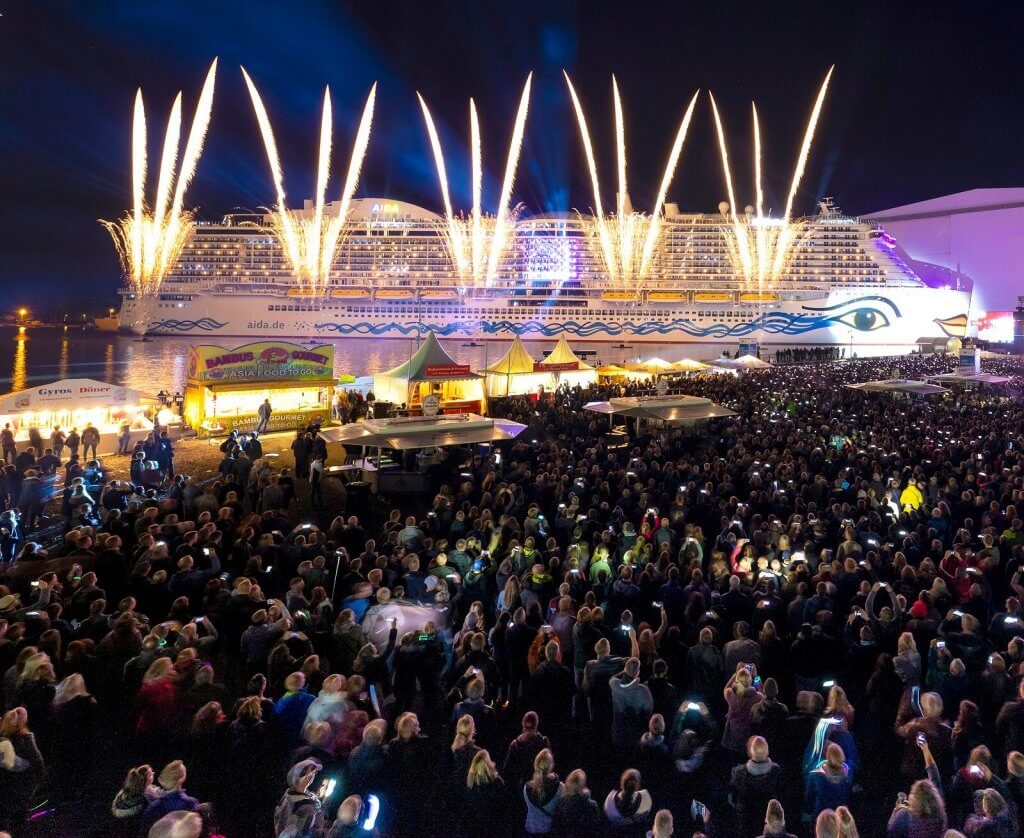 Sie möchten auch einmal die Mayer Werft in Papenburg besuchen oder bei der Taufe eines neuen Kreuzfahrtschiffs dabei sein?
Dann sichern Sie sich ganz einfach ein Ticket und eine Übernachtung im Hotel Arkadenhaus Papenburg:
1 x Übernachtung im Design-Hotel (Sta‍‍‍ndard- oder Komfortzimmer)
1 x Frühstück in der‍‍‍ Markthalle des Arkadenhaus Papenburg
1 x Ticket zum Besucherzentr‍‍‍um der Meyer Werft inkl. Shuttle
Meyer Werft Papenburg Webcams
WebCam I – Halle 6
Blick zum Ausrüstungskai der MEYER WERFT.
Stand: 21.02.2020
WebCam II – Halle 6
Blick ins Baudock II (Halle 6), in dem zurzeit das Vorschiff für die Odyssey of the Seas gebaut wird.
Stand: 21.02.2020
WebCam III – Halle 5
Blick ins Baudock I (Halle 5), in dem zurzeit die Spirit of Adventure für Saga Cruises gebaut wird.
Stand: 21.02.2020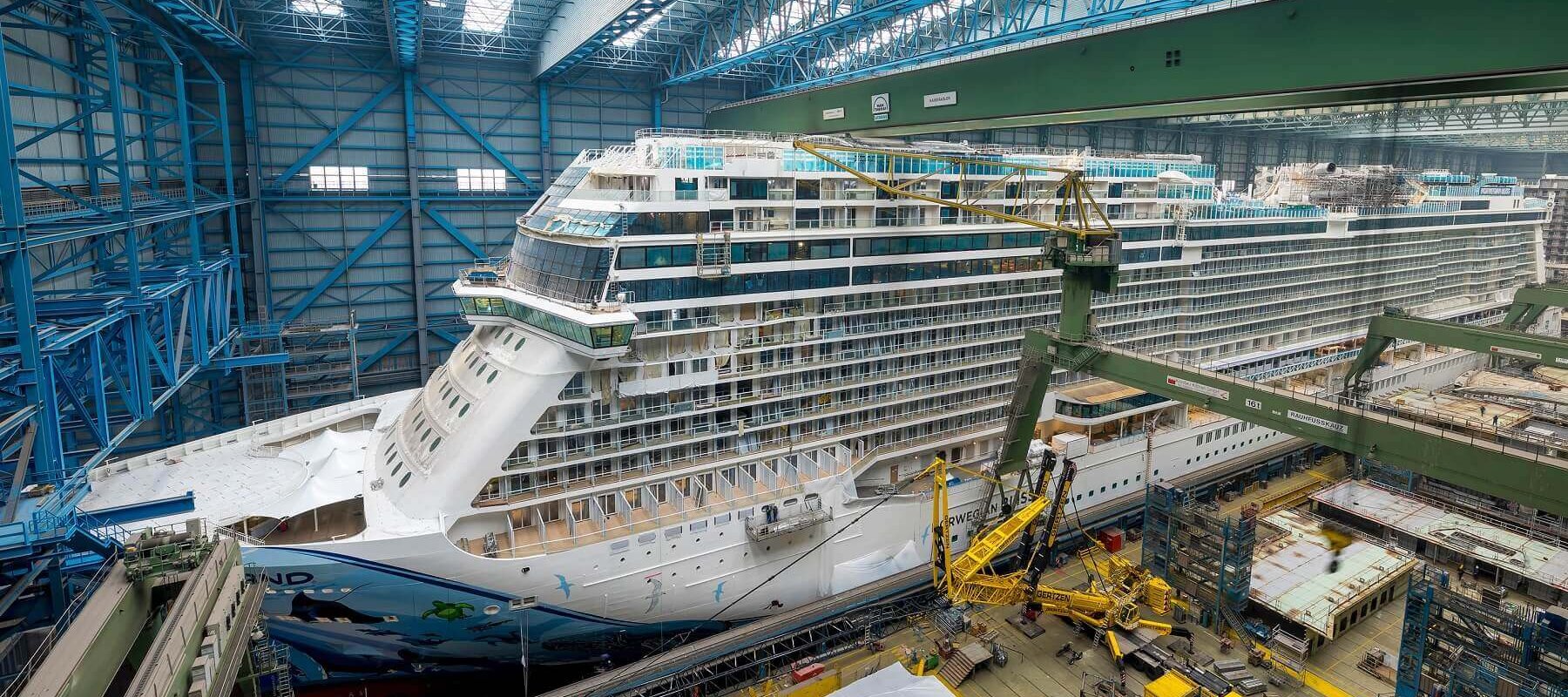 Die Halle der Meyer Werft in Papenburg misst 370 Meter in der Länge, 101,5 Meter in der Breite und 60 Meter in der Höhe. Das Dock der Halle hat eine Länge von 358 Meter und eine Breite von 39 Meter.
Meyer Werft Papenburg Bauliste Kreuzfahrtschiffe nach Baujahr
Schiff (Klasse) Auftraggeber
Jahr
Werft
Passagiere, Antrieb
Norwegian Escape (Breakaway-Plus-Klasse)
Norwegian Cruise Line
2015
Papenburg
4.266 Passagiere
Anthem of the Seas (Quantum-Plus-Klasse)
Royal Caribbean International
2015
Papenburg
4.900 Passagiere
Genting Dream
Dream Cruises
2016
Papenburg
3.360 Passagiere
Ovation of the Seas (Quantum-Plus-Klasse)
Royal Caribbean International
2016
Papenburg
4.188 Passagiere
World Dream
Dream Cruises
2017
Papenburg
3.376 Passagiere
Norwegian Joy (Breakaway-Plus-Klasse)
Norwegian Cruise Line
2017
Papenburg
3.850 Passagiere
Norwegian Bliss (Breakaway-Plus-Klasse)
Norwegian Cruise Line
2018
Papenburg
4.200 Passagiere
AIDAnova (Helios-Klasse)
AIDA Cruises
2018
Papenburg
6.600 Passagiere, LNG-Antrieb
Spectrum of the Seas (Quantum-Plus-Klasse)
Royal Caribbean International
2019
Papenburg
4.246 Passagiere
Spirit of Discovery
Saga Cruises
2019
Papenburg
1.000 Passagiere
Norwegian Encore (Breakaway-Plus-Klasse)
Norwegian Cruise Line
2019
Papenburg
4.200 Passagiere
Costa Smeralda (Helios-Klasse)
Costa Crociere
2019
Turku
6.600 Passagiere, LNG-Antrieb
Iona (Helios-Klasse)
P&O Cruises
2020
Papenburg
5.200 Passagiere, LNG-Antrieb
Spirit of Adventure
Saga Cruises
2020
Papenburg
1.000 Passagiere
Odyssey of the Seas (Quantum-Plus-Klasse)
Royal Caribbean International
2020
Papenburg
4.100 Passagiere
Mardi Gras (Helios-Klasse)
Carnival Cruise Line
2020
Turku
5.200 Passagiere, LNG-Antrieb
N.N. (Helios-Klasse)
AIDA Cruises
2021
Papenburg
6.600 Passagiere, LNG-Antrieb
N.N. (Helios-Klasse)
Costa Crociere
2021
Turku
6.600 Passagiere, LNG-Antrieb
N.N.
Disney Cruise Line
2021
Papenburg
1.250 Kabinen, LNG-Antrieb
N.N. (Helios-Klasse)
P&O Cruises
2022
Papenburg
5.200 Passagiere, LNG-Antrieb
N.N. (Icon-Klasse)
Royal Caribbean International
2022
Turku
5.000 Passagiere, LNG-Antrieb
N.N. (Evolution-Klasse)
Silversea Cruises
2022
Papenburg
nicht bekannt
N.N.
Disney Cruise Line
2022
Papenburg
1.250 Kabinen, LNG-Antrieb
N.N. (Helios-Klasse)
Carnival Cruise Line
2022
Turku
5.200 Passagiere, LNG-Antrieb
N.N. (Helios-Klasse)
AIDA Cruises
2023
Papenburg
6.600 Passagiere, LNG-Antrieb
Mein Schiff 7
TUI Cruises
2023
Turku
2.900 Passagiere
N.N.
Disney Cruise Line
2023
Papenburg
1.250 Kabinen, LNG-Antrieb
N.N. (Icon-Klasse)
Royal Caribbean International
2024
Turku
5.000 Passagiere, LNG-Antrieb
Videos zur Meyer Werft Papenburg